I have finally started work on my favourite style of game. It's a Tower Defence game basically. As I like playing TD games I needed to make it in a way I wouldn't become sick of it and actually wanted to play it myself. This means scrapping the traditional idea of scripted attack waves, otherwise I'd know what was coming next and how to beat them, and where is the fun in that. So it's using a system of random within bounds so each wave is different each time you play it. It means you can't take victory for certain when replaying a mission or wave.
Well development went really fast for the first 2 weeks and then BANG! It was playable and I have to now add the missions and wave data. Now it's playable it's taking me ages to put in each mission as I have to play it over and over again for each wave. Remember I said each wave was random within bounds? Well it makes it actually very addictive to play so I end up playing a level all day! This slows up development somewhat.
Here are some tower designs so far:
I have just made and uploaded a new video of my naval warfare game Torpedo Strike to youtube check it out here https://youtu.be/cP4ZMyTivTI  in fact checkout my youtube channel where I upload all my games videos.

The number 1 casino slot machine Slots! Diamond Strike. It doesn't get more real than this! Play for Free forever!! Free Credits every day.
Slots! Diamond Strike Features amazing graphics and sounds. Plenty of new and unique bonus features, including Jewel Train, Kockouts and Pickawin.
Bet up to 20 lines or play the amazing Diamond Strike 6th reel for really BIG prizes.
All wins can be gambled on a true odds multiplier card gamble.
Win one of 4 live progressive pots!
Features of Slots! Diamond Strike
Realtime 3d graphics
Gamble all wins
Auto Play
Pick a Box, Jewel Strike, Pick a win & Knockouts
Free games feature.
Local High-score table and Game Centre support
Works in Landscape mode.
Available on Apple IOS, Mac OSX and Android
Plays best on a tablet.
Slots! Diamond Strike Slot machine simulator is available on iTunes.
Available on iTunes here for IOS
https://itunes.apple.com/us/app/slots!-diamond-strike/id862258409?ls=1&mt=8
Available on iTunes here for Mac
https://itunes.apple.com/us/app/slots!-diamond-strike/id875193002?ls=1&mt=12
Available on Google Play here
https://play.google.com/store/apps/details?id=com.mQED.SlotsDiamondStrike

Building on the popular TorpedoRun, Torpedo Strike improves everything! You will love it.
Command an allied submarine in this adrenaline fueled, fast paced arcade action shoot-em up.
In Torpedo Strike You control a surfaced allied submarine fighting for survival. Use your 6 Torpedo tubes to launch the devastating Merlin torpedo and sink the enemy ships. Defend against incoming shells, depth charges and enemy aircraft with you deck cannon. Fight day and night with no help coming except for the occasional health drop.
Fight wave after wave of realistic and highly detailed enemy ships. Survive the darkness of the night with the help of your trusty flare gun to light things up! Seed the sea with your floating magnetic mines to cripple the enemy.Enemy ships can fire either single shots or devastating barrages. Don't let too many ships escape otherwise its game over!
Use your torpedoes carefully as they take time to reload, hit fast moving ships first to slow them down and finish them off at your leisure.
Features of Torpedo Strike:-
 Real time 3d graphics
 6 types of Axis ships, Battle Ships, Destroyers, Submarines, Frigates, Aircraft, Cargo Ships
 Day and Night cycle, fight 24 hours per day!
 Pause button for when the heat gets too hot.
 New novel torpedo aiming system.
 War ship navel battle simulation
 Particle effects
 Realistic Ocean
 Mines!! Deploy mines to sink those pesky ships.
 Merlin Torpedoes, 6 tubes of destruction.
 Deck Canon with 2 modes of aiming, set in options.
 Automatic Health Drops, make sure you shoot the crate for your health recharge.
 Local & Global High-score table
 Separate High-score table for your personal best
 Rank system, rise to the rank of Grand Admiral of the fleet.
 Works best on ipad2+
Torpedo Strike Works great on an ION iCade or iControlPanel. Should work on any bluetooth enabled controller
Torpedo Strike Naval Combat Arcade Action is available on iTunes.
Available on iTunes here https://itunes.apple.com/us/app/torpedo-strike/id811683748?ls=1&mt=8
View the video here:  Coming soon
Torpedo Strike, our new naval warfare arcade action game coming soon to IOS, Android and OSX. Based on the highly popular and very addictive Torpedo Run, Torpedo Strike evolves the game play using the latest technology.
Featuring all new highly detailed war ship models, day and night cycle, a greatly expanded play field depth and more and faster Merlin torpedoes. Enemy ships can now be up to many kilometres away so you will need to use the telescope to get your aim in.  Coming soon in Feb 2014…..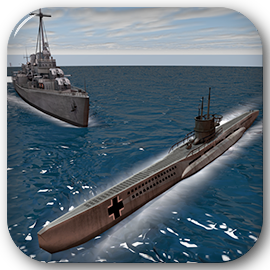 TorpedoRun Free V3.0 in Apple review
Today I released a major new update to our popular IOS game TorpedoRun Free. This updated has improved lighting and textures for a much better look on the iPad2 & iPad3. (The iPad1 reverts to the old lighting and textures for speed). We have added a spectacular new in game purchase called 'Mayhem Game Mode' This gives a whole new game play without changing the 'Classic' version you all love so much.
Mayhem features:- +1 Torpedo tube giving a maximum of 4 tubes if you own the extras addon, or 3 if you don't. Friendly cargo ships where 2 hits sink but you must not hit or sink them, otherwise you will lose points. Mayhem also features new PT boats that can launch 2 torpedos at you! The enemy super destroyer gets an upgrade to add bow and stern missile launchers. These are self propelled missiles that do not travel on a parabolic trajectory.
Aircraft!! Mayhem adds an enemy torpedo plane, that drops a torpedo towards you on its attack run. The aircraft is hard to kill but 10 hits from the flak canon will bring it down.
The biggest cause of game over is too many ships escaping and I hear your calls! We have added an air drop in the form of a P51 mustang that drops a convoy recharge crate. Shoot the crate to reduce the convoy escapped count by one. Careful to hit the crate quick otherwise it will sink. Health recharge is now faster on both Classic and Mayhem. Classic is only a minute quicker but in Mayhem you get a health drop every 2.5 minutes, and you are going to need it!
Mayhem has such a different game play it was unlikely you would get such high scores so we added a new Mayhem leaderboard on Game Centre so any play on Mayhem gets scored to this new leaderboard.
Here is a screen shot of Mayhem:-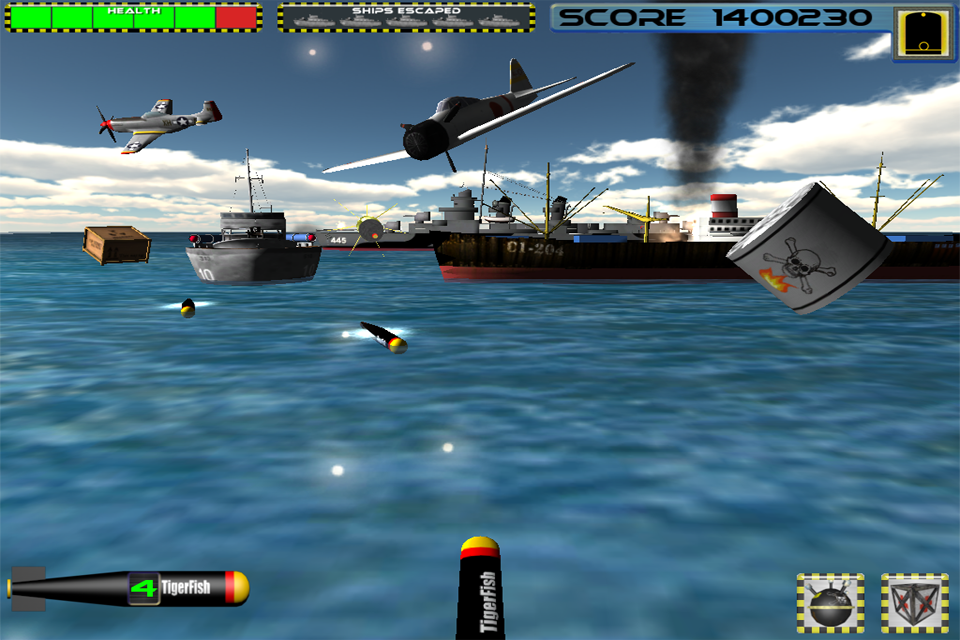 Our latest game Full Frontal Assault Coming soon…
Subscribe to our mailing list to be kept up to date.
Just had 2 great reviews of TorpedoRun so I thought I'd share them here for all to see.
 Once again a big thank you to all those that take the time to review our games, it really does help us.
Awesome update… Still…. A couple suggestions!

 by Rojoyinc

Developer listens!
Last upgrade major improvement… Still one of my favorite games!
9 out of 10 stars! I wish app store had 10 star levels.

Incoming ships depth charges now seem to have lower trajectory! Much better and less off top of screen… Love it.
Graphics and even frame rate look better. Might be due to ipad3?
Love the water now. Bug where torp would show sideways at rare times seems to be gone.

New ship is great love the detail and life boat on it!

What to fix still….
1.
Explosions when being over run by charges hitting player block view so you can't see other incoming charges! I hate that.
I have to just swipe back and forth and hope I stop other incoming charges I can't actually see. More transparency in those explosions?

2.
Often when trying to hit that little fast boat in the distance… It might run behind larger ships. We're forced to really aim to the left and right sides. It appears that even though it would be a hit… If off the left or right sides of the screen it doesn't register as a hit. I think it should. Else limit the right and left aiming to keep it on screen.
If torpedo goes off the sides just before a hit… It doesn't register the hit… That I know would have nailed it.

3. Not your fault, but I wish there was a way around cheating. Jail broken devices have a app, which lets you enter your name and dreamed up high score. Ruins the fun. Who would make such a app… And worse, who would use it!!! Only morons.
There is no way the top ranked score is real. Really? I could use my JB ipad2 and take top spot with that app. But really? Why.

Wow I am now ranked 9th in the world! Legit. 1.8 million

One of my all time favorites
 

by RacerX Slot Drifter

I am not one to write a whole lot of reviews, but this game has earned it from me. For such a simple game I have enjoyed playing it throughly. One of the few apps well worth the money. I wish more apps could be as entertaining as this one. Very impressive guys, keep up the good work!
TorpedoRun V2.0
Thanks to all our fans that love TorpedoRun, as requested we have released a new major update to the Paid version of TorpedoRun V2.0.
Whats New:-
Your current level is now displayed as you change from level to level
The Submarine gets a 3rd torpedo tube, giving you 3 torpedo's that can be in action at any one time.
The Mine rack also gets an upgrade to 4 mines. You can now have 4 mines in action.
Much improved Highscore display table, now shows the top 99 players, also highlights your position.
A new super destroyer has been added, taking 12 hits to destroy and equiped with depthcharges and powerful artillery shells.
Enjoy!

We are proud to introduce our new mobile game Ninja Penguin for iPad, iPhone and iPod Touch.
Ninja Penguin is a fast paced action puzzle game.
 You control a Penguin that needs to earn his Ninja credentials. Play in one of 90 levels across 5 stages. The puzzle is simple, just slide together 3 jewels either horizontally or vertically to win. Well it should be simple but various obstacles and baddies are out to stop you. Slide ice to kill the baddies or to help solve the puzzle.
 You can play the game for free or choose to equip your Penguin with some upgrades. Melt ice or incinerate the baddies with the flame thrower. Use your Ninja star to stun your enemies, be careful not to accidentally crush the ice with it. Having trouble out running the wild life? Equip your penguin with 'Go Faster Boots', gain a 150% speed increase.
 Game Centre support is included to enable you to earn great achievements. Game Centre also stores your world ranking for each level of the game. Can you become number one on all levels?
Features of Ninja Penguin :-
Real-time 3d graphics
90 levels available through in app purchase
18 levels available in the free download
5 themed stages to complete
Many types of baddies out to stop you, All with different behaviours
Particle effects
Devious level design, all possible but can you actually get the high score
Many upgrades for your Penguin available.
Flame Thrower to melt ice or incinerate your foes.
Ninja throwing star to stun your enemies.
Go faster boots for a 150% increase in speed. You might need these to get away from the dogs!
Game Center support
Many achievements built in.
Works in all landscape orientations on all IOS devices (not iPhone 3)
Compatible with:
iPad
iPad2
iPhone 4
iPhone 4S
iPod Touch
Ninja Penguin for iPad, iPhone and iPod Touch is available on iTunes.
Available on iTunes here http://itunes.apple.com/au/app/ninjapenguin/id497247805?mt=8
View the video here: http://www.youtube.com/watch?v=rKo6t-Rjp8Y